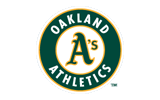 2009 Record:
37-49, 4th Place in American League West
Offensive Grade:
F
Defensive Grade:
D
Starting Pitching Grade:
B-
Bullpen Pitching Grade:
B-
Managerial Grade:
F
Front Office Grade:
F
Overall Midseason Grade:
D+
The A's entered 2009 as a darkhorse candidate to win the division. Now, at the halfway point, the team is a darkhorse candidate for the worst record in the American league. 2009 marks the first time in the past decade that the A's have entered the All-Star break with a record below .500. Offensively, the team has been a complete mess. Once again,
Eric Chavez
has found himself sidelined for the entire season, while the new free agent acquisitions have disappointed thus far. Even
Matt Holliday
, who was acquired in an offseason trade with the
Rockies
, has gotten off to a slow start and there are now questions as to whether or not the A's will be able to get what they want in return in a midseason deal. Defensively, the A's have struggled, mainly because injuries to gold glove caliber players in Chavez and
Mark Ellis
. However, this can also be attributed to manager
Bob Geren
for starting
Jack Cust
in right field in many games thus far. The starting pitching has shown signs of promise.
Trevor Cahill
,
Brett Anderson
, and
Vin Mazzaro
, already christened "the new big three", have looked brilliant at times....and other times have shown their lack of experience.
Dallas Braden
has been one of the best pitchers in the American League this season, but a lack of run support has failed to earn him recognition. So has
Josh Outman
, but he became the third A's player to fall victim to Tommy John Surgery this offseason. The bullpen was very good at the beginning of the year, but has started falter down the stretch, mainly from being used far too much.
Michael Wuertz
and
Andrew Bailey
have been the two bright spots though. As for manager Bob Geren, he looks lost. He refuses to let starters work deep into games, has failed to play the matchups correctly, and shows no confidence in his team. If he wasn't Billy Beane's best man at his second wedding, he might be the second manager to be fired this season. Speaking of
Billy Beane
, he has completely mishandled the farm system all year long and his trade for
Scott Hairston
is questionable. It's been a rough first half for the A's.
First Half MVP: Andrew Bailey - Closer


After trading
Huston Street
in the offseason and seeing
Joey Devine
fall victim to Tommy John Surgery, many that follow the A's were wondering who would step up and take over the role of the teams closer. Andrew Bailey answered that question. Since being selected as the last reliever to make the A's bullpen out of spring training, Bailey has forced everyone around baseball to take notice of him. He is the only rookie to be selected for the All-Star Game in St. Louis and is the A's lone representative. No one could dare say Bailey isn't deserving though. Bailey leads all American League Relievers in innings pitched and strikeouts and is 4th among American League Closers with a 1.92 era. Bailey features a mid 90's fastball, a curveball, and a cutter that does its best impression of
Yankees
future Hall of Fame closer
Mariano Rivera
.
Apologies to:
Adam Kennedy
,
Kurt Suzuki
, Dallas Braden
First Half LVP: Jason Giambi - First Basemen


If the
Jason Giambi
that the A's had on their team mirrored anything close to the young guy in the picture to the right, the A's were going to get a bargain in the offseason. Unfortunately, what they ended up with was an over the hill, aging veteran, whose bat can't catch up to an inside fastball. Giambi has been terrible this season. In fact, this is his worst season of his career. Currently, Giambi is hitting below the Mendoza Line at .192 on the year. The A's were hoping Giambi would be an upgrade from
Daric Barton
, but instead they only stunted Barton's development for no apparent reason. In addition, his inability to play the field everyday is causing manager Bob Geren to play Jack Cust in the outfield, a position that Cust should never play. Because of his performance, the A's can't trade Giambi. Jason has a team option for next year in which I don't think is going to get picked up. Unless Giambi has a strong second half, Giambi might be playing his last season in baseball.
sighs of relief for:
Jack Cust,
Bobby Crosby
,
Orlando Cabrera
Biggest Surprise: Adam Kennedy - Infielder


At the beginning of the season, no one wanted
Adam Kennedy
. In fact, the
St. Louis Cardinals
waived Kennedy, eating the $4 million dollars he had owed on his contract. The
Rays
signed Kennedy to a minor league deal, but then quickly sent him to the A's for career minor leaguer
Joe Dillon
. Oh how those two teams GM's wish they could have do overs...Since arriving in Oakland, Kennedy has been an offensive force and is having his best season as pro baseball player. Kennedy is currently hitting .291 with 7 home runs and 31 RBI. Mind you, those numbers are since May, as the first month of the season Kennedy was in AAA. His home run total is his highest since 2004 when he hit 10 in a season. Kennedy is also proving to be a versatile player, playing whatever position he has been asked to receive playing time. He originally was called over to play second base in place of the injured Mark Ellis, but when Ellis returned Kennedy has made the transition to 3rd, 1st, and even some time in right field and has kept on hitting. Because Kennedy is a free agent at the end of the year though, he remains a good candidate to be traded. A team like the
Cubs
would be a perfect fit.
Apologies to:
Josh Outman, Andrew Bailey, Dallas Braden
Player Most Likely to Be Traded: Matt Holliday - Left Field


While the A's have many players that could be dealt by the end of the month, none of them are more likely to leave than outfielder Matt Holliday. Holliday was a three time All-Star with the Colorado Rockies, but has regressed since joining the A's and leaving the hitter friendly confines of Coors Field. According to reports, the A's are said to be asking for two top of the line prospects in return for Holliday. The reasoning is because the A's would not only be trading away Holliday, but the two compensation picks that come with him if he becomes a free agent at the end of the year. The teams that make the most sense to acquire Holliday seem to be the
Mets
, Cardinals, and possibly the
Red Sox
. If teams won't give A's GM Billy Beane what he wants, Beane will simply hold on to Holliday and obtain the draft picks at the end of the season. However, some skeptics suggest that if Holliday doesn't get the price he wants in the offseason, he may accept arbitration from the A's which would net him a 1 year deal around 18 million. Personally, I don't think he would do it though as the last place Holliday would want to be to rebuild his value is Oakland. If it does happen though, the A's may have the same situation at this time next season.
Don't Get Too Comfortable:
Adam Kennedy,
Russ Springer
, Bobby Crosby
First Prospect Likely To Be Called Up in 2nd Half: Tommy Everidge - Corner Infield

Tommy Everidge
is flying under the radar. So much in fact, that I hadn't even heard of him until this year. He isn't even on Baseball America's list for the A's top 10 prospects. However, I can't wait for this kid to recieve his callup. Everidge features good power and pretty solid bat. Two seasons ago in Single-A, Everidge had 26 home runs and 94 RBI's while batting .266. Last year he had 22 home runs, 115 RBI, and improved his batting average to .279 at AA Midland. This season, combined between Double-A and Triple-A, Everidge is off to a torrid start hitting .309/.375/.508 with 14 home runs and an astonishing 73 RBI at the halfway point. A natural first basemen, the A's have been gradually converting Everidge to play 3rd, a position the organizational depth is weak at. His promotion to AAA, as well as the position switch, I believe forced the A's to trade away
Jack Hannahan
, who was demoted to AAA after a weak start to the season. The team probably felt they didn't want a player like Hannahan taking away at bats from Everidge. I expect to see Everidge to receive his first callup in August, though the team would likely have to trade Adam Kennedy to make room on the roster. If this kid has the ability to play 3rd base, the A's might have found their replacement for Eric Chavez.